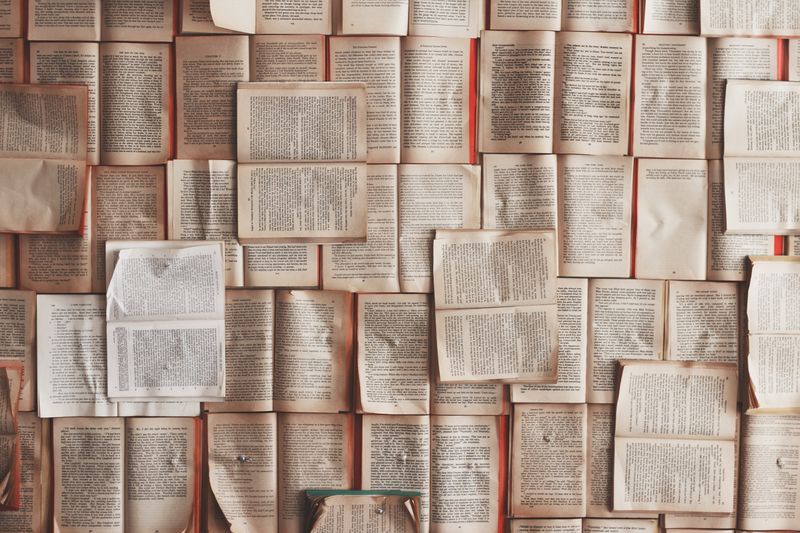 Working towards a graduate degree in your chosen field of study means joining a community of scholars, researchers, and learners with the widespread goal of a respectful exchange of knowledge. Fostering a commitment to honesty and integrity is paramount to that goal. Academic integrity is the term we use to describe an essential duty of scholars and learners everywhere to cite responsibly and avoid plagiarism. It also can cover other areas of accountable research including following copyright rules, and conducting ethical research. Academic Integrity is set out in the Student Conduct Code of Teachers College, and students and faculty are expected to maintain integrity and honesty in their academic work at TC.
Plagiarism and Citations
Plagiarism is the act of representing someone else's work as your own. The surest way to prevent plagiarism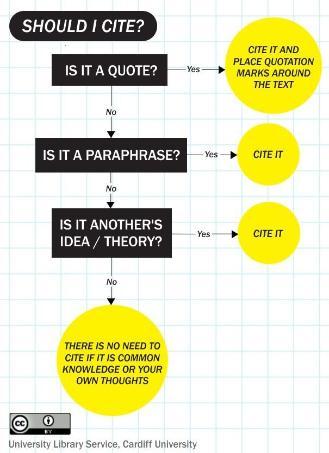 and maintain academic integrity is by accurately citing your sources. Even if you are not directly quoting a piece of information or concept in your text, you still must provide a proper reference to the original creator. The flow chart accompanying this blog post can help you decide when you need to cite.
Other good practices to avoid plagiarism include starting your assignments early to give yourself ample time to cite correctly and generate your own ideas. We also recommend keeping detailed notes when you are reading through your sources to keep track of where you found a piece of information. Using a reference manager like Zotero, EndNote, or Mendeley can make it much easier to integrate references into your work as you write and keep notes. To learn more about these reference managers, check out our Reference Management Research Guide. Finally, having confidence in your writing and your ideas can help you resist the temptation of plagiarism. To get writing help, head to the Graduate Writing Center.
What about Wikipedia?
Wikipedia can often be a good place to start in your research to familiarize yourself with a general topic and find key terms. However, Wikipedia is an information source generated by the public and not reviewed by experts. For this reason, citing directly from Wikipedia is often frowned upon in academics. To avoid this, only use wikipedia articles in your very preliminary searching. Most wikipedia articles will cite the sources from which they have generated the content. By using the reference list you can find out if the sources used are reliable and use them as a jumping off point for your research.
Other Plagiarism and Citation Resources

Purdue Online Writing Lab (OWL): Created and maintained by Purdue University's Writing Lab and the most well-known and robust source for citation information, including APA, MLA, and Chicago Manual of Style Guidelines.
MLA, APA, and Chicago Manual of Style Websites: get citation information directly from the source of your chosen style guide.
Plagiarism.org: Sponsored by Turnitin.com, a common tool used to detect plagiarism in written academic work, this site includes definitions, facts, and ideas about preventing plagiarism.
NPR Talk of the Nation Episode on Cut and Paste Plagiarism: courtesy of CSULB research guide on Plagiarism, an interesting discussion between professors and the creator of Turnitin.com.
Wikipedia Research Guide: From the University of Pittsburgh, this research guide gives a breakdown of why, how, and when you might utilize wikipedia in your academic work.
Copyright and Fair Use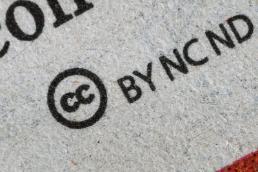 Copyright is different from plagiarism and has different implications for violation, but it is a piece of maintaining integrity in cases such as teaching, publishing, and sharing copyrighted works. You can check out the library's copyright page to learn more about library specific use of copyrighted materials. Copyright laws can be a bit confusing, but there is one particular legal doctrine to pay attention to for our purposes called Fair Use that allows for a greater use of copyrighted material in some cases. Here is how Fair Use is described in the U.S. Copyright Code:
"Notwithstanding the provisions of sections 106 and 106A, the fair use of a copyrighted work, including such use by reproduction in copies or phonorecords or by any other means specified by that section, for purposes such as criticism, comment, news reporting, teaching (including multiple copies for classroom use), scholarship, or research, is not an infringement of copyright."
Fair Use is governed by Four factors that determine whether the use was warranted under the code:
the purpose and character of the use, including whether such use is of a commercial nature or is for nonprofit educational purposes;

the nature of the copyrighted work;

the amount and substantiality of the portion used in relation to the copyrighted work as a whole; and

the effect of the use upon the potential market for or value of the copyrighted work.
If you are properly citing your sources and avoiding plagiarism, you will not need to be concerned with copyright or fair use when completing assignments or papers for courses. However, it is good to keep fair use in mind if you are creating works that will be shared publicly, if you are teaching a course and gathering materials to share with students, or if you are considering publication. Being aware of works in the public domain as well as creative commons licensing (copyright protection that gives different levels of allowance of use) can also expand the amount of material available to you without breaking copyright law.
Definition and Four Factors courtesy of Cornell's Legal Information Institute. Photo by Umberto on Unsplash.
Copyright Resources
What's Fair: Copyright, Open Source, and Education: Blog post on our library website going over the basics of copyright and how to use it in educational settings.
Fair Use Index: by the U.S. Copyright Office, briefs of recent court decisions on Fair Use with clear descriptions of their use of the four factors.
Fair Use Checklist: Provided by Columbia University Libraries, this fair use checklist can help you determine if you are accurately using fair use in your work.
Ethical Research
Finally, you can maintain academic integrity while conducting your own ethical research by accurately reporting data, following IRB protocols, and giving credit where it is due. In academic research, there is a good amount of energy committed to cultivating honesty in the research process to maintain the credibility of results. The Institutional Review Board at most higher education institutions is responsible for ethical research in human subjects, and you must use their system to register your research before conducting any research using humans. Additionally, peer review and other academic publishing protocols help to prevent instances of falsified data, misrepresented results, and skewed data visualization that brings the general scholarship down in accuracy.
Resources for Ethical Research
Research@TC: The hub for all research related activities at Teachers College as a collaborative effort between multiple offices.
Institutional Review Board: The office for protocols related to conducting research with human subjects at Teachers College.
Responsible Conduct of Research Training: offered by Columbia University, the CITI program offers a variety of courses in responsible research. On this page, scroll down to the section on Resource for Responsible Conduct of Research and follow the directions to get registered.
Cover photo courtesy of Patrick Tomasso on UnSplash.