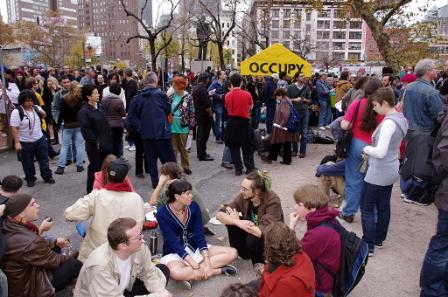 A protest movement against economic equality, political corruption, and corporate influence on government, Occupy Wall Street began on September 17th, 2011 in Zuccotti Park, located in the financial district of Lower Manhattan; it drew thousands of marchers there, and in areas around New York City, across the United States, and other countries. Occupation, civil disobedience, picketing, demonstrations, Internet activism, and the beloved, rapidly growing People's Library were methods of communication, leading to the ubrupt eviction of protestors in this privately owned space on November 15th, 2011. Eviction fueled the fire of frustration and anger, precipating occupation by protestors of all ages, backgrounds, and ethnicities in banks, businesses, schools, campuses, and other places, including social media. "We are the 99%", the powerful slogan for the movement, enforced sentiment and belief in the economic disparities and injustices caused by corporate and political America, while police arrests were being made, oft without just cause, for trespassing, assault, and other serious charges.
The People's Library, a collection of over 5,500 donated books, represented a broad range of subjects: religion, politics, literature, health, and more, for all ages, in different languages, indicative of democratic spirit and freedom of speech and the press. Books described in Library Thing, a social cataloging web application, were seized and destroyed by law enforcement -- leading to court settlements for property damages.
Eleven years past, one still sees how the OWS movement is a "teachable moment" in the classroom, from elementary to graduate education. What did we learn from occupation and response to the movement? Was Zuccotti Park the meaning of democracy? anarchy? anticapitalism? anti socialism? or something else? It inspired thought, action, and even poetry. To quote from Shirani Rajapakse, an internationally published Sri Lankan poet and short story writer:
"The world's a melting pot of ideas brimming over and spilling
across the globe. A single voice raised in unison, calling,
calling out and the winds carried the words over
miles of ocean and land to houses so distant, like mine.
Ripples of words, thoughts and dreams ran
the world as you watched from your window and I sat at my
desk and tapped on keys trying to make
sense of it all.
-- Zuccotti Park Arises, Shirani Rajapakse
The following articles are drawn from Proquest Historical Newspapers, which informs and inspires classroom teaching and learning.
Tips:
Images:
---
Need to keep current, look to the past, teach a topic? The Everett Cafe features daily postings of news from around the world, and also promotes awareness of historical events from an educational context. Be sure to check additional Cafe News postings on the library blog.