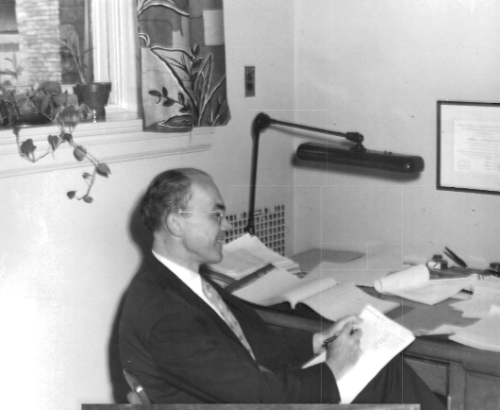 On May 25th, 1957, Robert Ladd Thorndike, eminent educational psychologist, was appointed Head of the Department of Psychological Foundations and Services at Teachers College, Columbia University effective September 1957. Dr. Thorndike joined the staff in 1936 and was appointed a full time professor in 1948. He was member of the scientific advisory panel for the United States Army, as well as Phi Beta Kappa, Sigma Xi, and an Associate of the American Psychological Association. He served as president of the American Educational Research Association (1974-1975) and Psychometric Society (1952-1953).
Dr. Robert Thorndike's tenure at Teachers College lasted until 1976 when he retired. Prior to teaching here, Dr. Thorndike was as an instructor (1934) and then an Assistant Professor (1935-1936) at George Washington University. Born September 22, 1910 in Montrose, New York to Edward Lee Thorndike and Elizabeth Moulton, he earned his B.A. from Wesleyan University (1931), and his M.A. (1932) and Ph.D (1935) from Columbia University. Like his father who also long served on the faculty of Teachers College, he conducted research in psychology, focusing on animal and human behavior. He was known for his authoritative textbooks on research procedures and psychometrics, which included selection and construction of testing; cognitive ability, and cluster analysis.
The following articles are drawn from Proquest Historical Newspapers, which informs and inspires classroom teaching and learning.
Tips (select works by Robert L. Thorndike):
Also see: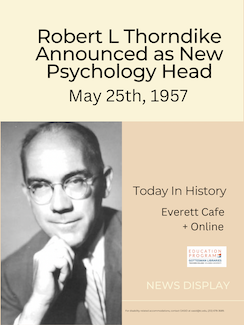 Images:
Robert Ladd Thorndike at His Desk, Robert L. Thorndike Faculty File, Courtesy of Teachers College, Columbia University
Poster Image, Portrait of Robert Ladd Thorndike, Robert L. Thorndike Faculty File, Courtesy of Teachers College, Columbia University
---
Need to keep current, look to the past, teach a topic? The Everett Cafe features daily postings of news from around the world, and also promotes awareness of historical events from an educational context. Be sure to check additional Cafe News postings on the library blog.