Created by Joan Ganz Cooney, Lloyd Morrisett, and Jim Henson, Sesame Street -- also known as Children's Television Workshop -- debuted on national educational television, via provider PBS, on November 10th, 1969. Known for its use of muppets, a colorful, lovable cast of puppet characters in short, amusing, and often humorous, musical sketches, Sesame Street opened with positive, though some controversial reviews. It became one the longest running television shows in the world. Designed to prepare young children for school by teaching the alphabet, numbers, shapes, and basic reasoning through live shorts and animation, it held their interest and attention, while introducing real life experiences occurring in a fictional street in an unspecified neighborhood in New York City.
Sesame Street continues to bridge education and culture through the learning adventures of Bert, Ernie, Oscar the Grouch, Grover, Big Bird, Elmo, Cookie Monster, other muppets and all the children and adults with whom they interact. Fun Fact: there are over 60 doctoral dissertations that explore Sesame Street as a topic, including its wide ranging influence; affect on the children's television industry; and application to specific areas of education.
The following articles are drawn from Proquest Historical Newspapers, which informs and inspires classroom teaching and learning:
Tips:
Cole, Charlotte F., and June H. Lee. The Sesame Effect : The Global Impact of the Longest Street in the World. New York, N.Y: Routledge, 2016. e-book
Fisch, Shalom M., and Rosemarie T. Truglio. "G" Is for Growing : Thirty Years of Research on Children and Sesame Street. Mahwah, N.J. ; Erlbaum, 2001.

Stacks

;

LC6579.S47 G58 2001

Fisch, Shalom M.

Children's Learning from Educational Television Sesame Street and Beyond. Mahwah, N.J: L. Erlbaum Associates, 2004. Stacks:

LC6576 .F57 2004;

e-book
Frye, Karen Hill. Television's Sesame Street, an Experiment in Early Education. Los Angeles: Center for Afro-American Studies, University of California, 1972.

Stacks

;

LB1044.7 .F79

Lesser, Gerald S. Children and Television : Lessons from Sesame Street. [First edition]. New York: Random House, 1974.

Stacks

;

PN1992.77.S43 L4

Check out the Records of the Children's Television Workshop, held in the Archives at the University of Maryland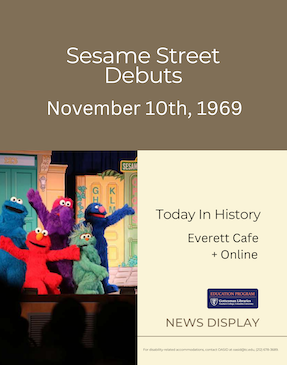 Images:
---
Need to keep current, look to the past, teach a topic? The Everett Cafe features daily postings of news from around the world, and also promotes awareness of historical events from an educational context. Be sure to check additional Cafe News postings on the library blog.