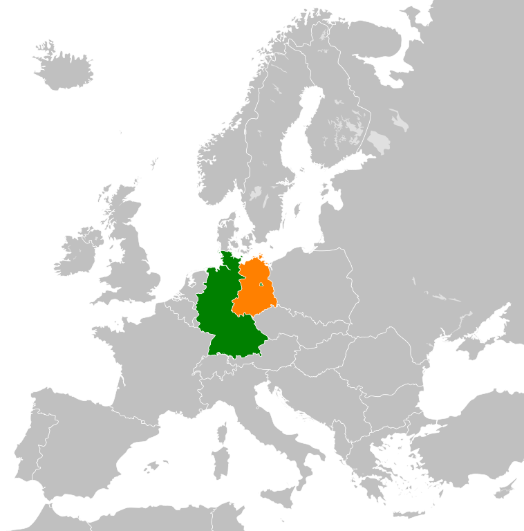 Some may remember the former Checkpoint Charlie, a well-known border crossing on Friedrichstrasse in Berlin. Becoming a symbol of the Cold War, with the presence of American and Soviet tanks there at the height of crisis in 1961, this major military point sought to stop emigration and defection, at times unsuccessfully, into the West.
On September 12th, 1990 the former East and West Germany agreed under the "Two Plus Four Treaty" with European Allies (France, Soviet Union, United Kingdom, and United States) that German boundaries comprised the entire area of Germany -- soon to be considered one country. Reestablishing Germany as a single state occurred between November 9th, 1989 and March 15th, 1991, with October 3rd, 1990 as a key date when the Unification Treaty dissolved the German Democratic Republic (also known as the GDR or East Germany). The former German Democratic Republic was viewed as a communist state stemming back to Soviet occupation during Nazi Germany (1933-1945).
This news curation focuses on the close period leading up to, and just after, the Treaty which ushered in the next stages of German reunification -- a major political, social, and economic decision that impacted the fall of the Berlin Wall and larger growth and influence of Western thought, including changes in education.
The following articles are drawn from Proquest Historical Newspapers, which informs and inspires classroom teaching and learning.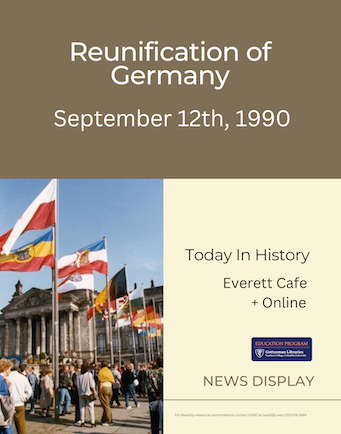 Tips:
Aynsley, Jeremy.

Designing Modern Germany. London: Reaktion Books Ltd, 2009. e-book
Banchoff, Thomas. The German Problem Transformed: Institutions, Politics, and Foreign Policy, 1945-1995 . Ann Arbor: University of Michigan Press, 2010. e-book
Blanton, T., et al . Masterpieces of History The Peaceful End of the Cold War in Europe, 1989. New York: Central European University Press, 2010. e-book
Costabile-Heming, Carol Anne., Kristie A. Foell, and Rachel J. Halverson. Berlin : the Symphony Continues : Orchestrating Architectural, Social, and Artistic Change in Germany's New Capital. Reprint 2013. Berlin : Walter de Gruyter, 2004. e-book
Images:
---
Need to keep current, look to the past, teach a topic? The Everett Cafe features daily postings of news from around the world, and also promotes awareness of historical events from an educational context. Be sure to check additional Cafe News postings on the library blog.