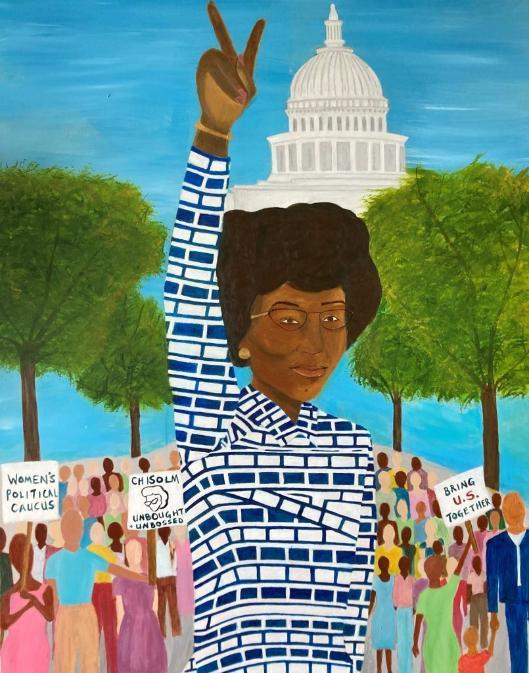 The first black woman elected to the United States Congress in 1968, Shirley Chisholm (née St Hill) was born in Brooklyn, New York on November 30th, 1924, and spent her early years in Barbados. An alumna of Broooklyn College, and of Teachers College, Columbia University, Chisholm earned her Master of Arts in childhood education in 1951 while teaching at Mt. Calvary Child Care Center in Harlem. She served as director of Hamilton-Madison Child Care Center in lower Manhattan and consulted for New York City's Bureau of Child Welfare. Chisholm volunteered extensively in democratic political organizations before joining the New York State Assembly, the House of Representatives, and eventually the campaign in 1972 for the office of the President of the United States. She represented New York's 12th Congressional district, mostly Bedford-Stuyvesant, from 1969-1983. An advocate for child and health care, education, minimum wage, women, land rights for Native American, she left Congress to focus on higher education; she became the Purington Chair at Mount Holyoke College in Hadley, Massachusetts, and continued teaching as a visiting professor Spelman College in Atlanta, Georgia.
Shirley Chisholm remains an inspiration for women, black women, educators, and activists -- her legacy felt deeply among teachers, citizens, politicans, artists, our own community. Chisholm was the subject of our recent mixed media installation, Peacing Shirley, by 2022 Myers awardee Monben Mayon, masters student at Teachers College, Columbia University, and also central to the accompanying Everett Cafe book display, Representations of Women in 20th Century United States and Beyond, designed by Trisha Barton, Gottesman's Lead Designer, alumnus of Spelman College and Teachers College, Columbia University. Chisholm's portrait by Monben Mayon will be hung in the College's landmark Tudor Room in the Spring of 2023.
The following articles are drawn from Proquest Historical Newspapers, which informs and inspires classroom teaching and learning.
Tips:
Images:
---
Need to keep current, look to the past, teach a topic? The Everett Cafe features daily postings of news from around the world, and also promotes awareness of historical events from an educational context. Be sure to check additional Cafe News postings on the library blog.