Technical Services Summer Semester Report, 2022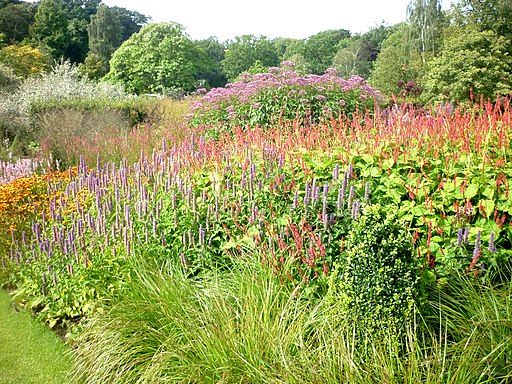 Increasing Collection Discovery
Over the course of the summer, projects in the areas of cataloging and metadata centered on making resources more easily discoverable by the continued review and revision of resource import profiles, technical specifications with vendors, and identifying areas of need within our collections.
Regular maintenance of library resource import profiles allowed us to continue providing quality data to end users searching Educat+. New import tables were created to address changes to the Children's Approval Plan, where books are automatically shipped to Gottesman Libraries upon award announcement. This meant that a separate, new import profile was needed for Children's firm orders. Working with some assistance from GOBI Library Services and adjusting for our library staff and workflows, the new import profiles have been in use for about three months.
Work started on providing special faceted collection discovery for Teachers College digital dissertations and theses. Members of Gottesman Libraries met with the ProQuest Digital Dissertation content team in order to realign our account, update data standards, and resume the direct delivery of metadata. These records required some cleanup using OpenRefine, an open source desktop application for data clean up and transformation. Next steps will require reconciling this data against records we currently have in Educat+, and accounting for digital copies provided by Pocket Knowledge.
We resolved an error produced in EndNote when attempting to search Educat+ within the application. Updates to our database were sent to EndNote and were available within a few weeks. Testing is underway to allow for the discovery of Research Guides within Educat+.
Members of Gottesman Libraries served on the LD4 2022 Conference: Linking Global Knowledge planning committee and technology sub-committee. The conference took place July 11-15th, and offered 40 sessions to 1,341 participants from around the world. Gottesman Libraries' Kalli Mathios will co-chair the 2023 conference with Huda Khan of Cornell Libraries.
The Technical Services team began work on updating or creating Wikidata profiles for Teachers College faculty, in conjunction with a Wikidata informational blog series written by Technical Services Associate Jackson Healey. Data modeling for scholarly research articles also took place during the summer months, in preparation for adding more research to Wikidata. These data points will increase the discovery of Teachers College's scholarly content as well as provide a more well-rounded view of Teachers College within Wikidata and its related applications. An introductory workshop to Scholia is scheduled for December 2, 2022.
Gottesman Libraries also had a presence in the summer/fall Wikidata working hour series centered on diverse children's book data from the University of Wisconsin-Madison's Cooperative Children's Book Center, and will help present the series at an upcoming Wikidata Affinity Group Call this fall.
Strengthening Library Services Systems
Over the summer months, Alma and Educat+ were updated to meet patron needs. We began testing system configurations for a Pick Up service pilot program that allows Teachers College members to request physical books from the Juvenile and Curriculum sections from Educat+. The book is retrieved by library staff and placed on hold for pick up at the first floor services desk. Enabling this service meant adjusting requesting parameters within Alma fulfillment units and terms of use, testing these procedures with staff, and enabling the display of the request button in Educat+. Further testing is underway to potentially expand the service across locations.
First sessions of the Gottesman Libraries' Technology Working Group convened this summer and early fall to address ongoing developments and needs in technology with a focus on the Library Services Platform, and collaborative integration with library and campus platforms and services. We discussed the new quarterly update schedule for our Ex Libris suite, areas of shared need regarding technology training, the migration of the library website, meeting room technology needs, documentation brainstorming, library staff support for Widen, and the upcoming Alma Digital implementation.
Gottesman Libraries' is participating in an early adopters user group for Ex Librisi's Alma acquisitions module. We met with members of Ex Libris who provided an overview of the new interface and workflow UX, and will be providing feedback on the experience via Basecamp.
Training sessions for the implementation of Alma Digital began in the late summer months, and we look forward to working with our colleagues in TCIT and within the library to showcase our special, digital collections.
Patron-Driven Acquisitions & Coordinated Collection Development
In the Summer A & B terms, the library acquired new ebooks, print books, and journal subscriptions. Aligned with faculty subject area recommendations, library staff curated book collections, art exhibits, and patron-initiated requests, these new resources support research and learning, as well as provide starting points for new areas of inquiry. Members of the TC community may request new books using our request form.
The Teachers College community placed 215 requests for new library resources between May 19, 2022 and September 6, 2022. The new materials acquired below were handled with the entire resource life cycle in mind, including special attention to funds and collections budgeting as we approached the end of the fiscal year, as well as typical ordering, receiving, invoicing, and payment procedures.
| Request Description | Number of Requests |
| --- | --- |
| Total requests | 215 requests |
| Staff requests | 114 requests |
| Faculty requests | 38 requests |
| Student requests | 66 requests |
| Fulfilled requests | 213 requests |
| Unfulfilled requests | 2 requests |
In addition to patron requested resources, library staff collaborated to expand our offerings of Teachers College Press ebooks, children's and young adult literature, curriculum, and education professional development titles. Meetings with both library resource vendors and library staff ensured the smooth, timely delivery of scholarly resources, both new and continued.
| Material Type | Number Added |
| --- | --- |
| Ebook | 775 ebooks |
| Print book | 164 books |
A selection of newly acquired Children's books can be viewed here.
Highlights include children's fiction and nonfiction award winning picture books, juvenile novels, and memoirs available in print formats and requestable through Educat+. These resources may be useful for lesson planning, studying contemporary children's literature, and instructional use.
A selection of newly acquired Curriculum ebooks can be viewed here.
Highlights include many nonfiction juvenile titles available in ebook format covering topics in technology, coding and computer science, history, the arts, and more. These resources may be useful for lesson planning and surveying nonfiction children's literature.
A selection of newly acquired Education Professional Development titles can be viewed here.
Highlights include recent publications covering assessment, writing and literacy, mathematics, technology, distance learning, and civics instruction as well as resources for those designing lesson plans for struggling readers and writers. These resources are available in an ebook format.

Gottesman Libraries also acquired 376 ebooks published by Teachers College Press, bringing our electronic Teachers College Press holdings up to 453 titles.


In addition to increasing our monograph holdings, the Technical Services team worked to review and renew our electronic resources set for summer renewal, and become familiar with our new licensor LYRASIS by attending virtual meetings in large groups and one-on-one. Gottesman Libraries renewed the packages and subscriptions below. For more information, please see our A to Z Database List.
Summer with the New Course Reserves
The library was excited to begin our first summer with our new, permanent course reserves platform, Course Resource Lists–powered by Ex Libris' Leganto, implemented in Spring 2022 in collaboration with the Digital Futures Institute.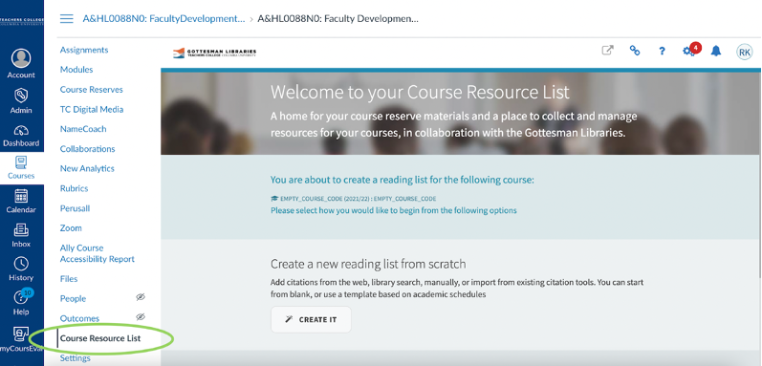 Course Resource Lists are located directly within Canvas and are integrated with the library's catalog and discovery platform, Educat+, allowing easy searching of the library's holdings and addition of resources to courses: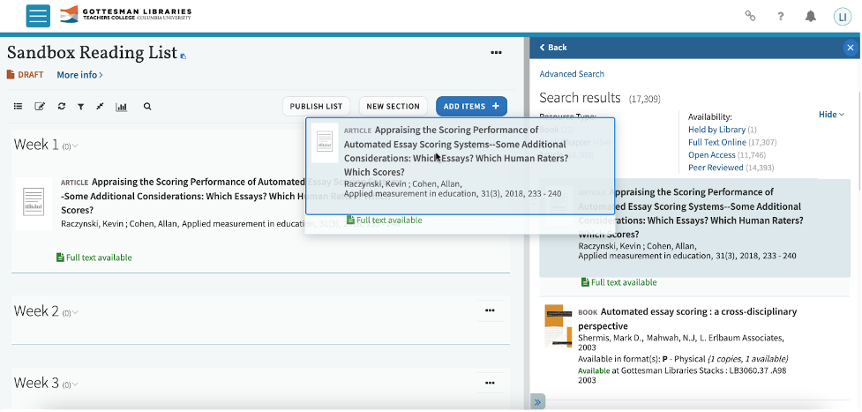 For the Summer 2022 terms, the library fulfilled:
37 lists

Containing over 420 individual citations

Resources included Ebooks; electronic journal articles; streaming films; print books; and selected digitized excerpts of materials only available in print at the library
The platform offers several other benefits, including retention and rollover of lists, and many other features, such as a "Cite-It! Tool" bookmarklet for easy addition of citations to Course Resource Lists while web browsing.
At the beginning of the Summer terms, the library published an extensive guide to the new platform for instructors, with step-by-step instructions for placing course reserve requests and utilizing the new platform and all of its features: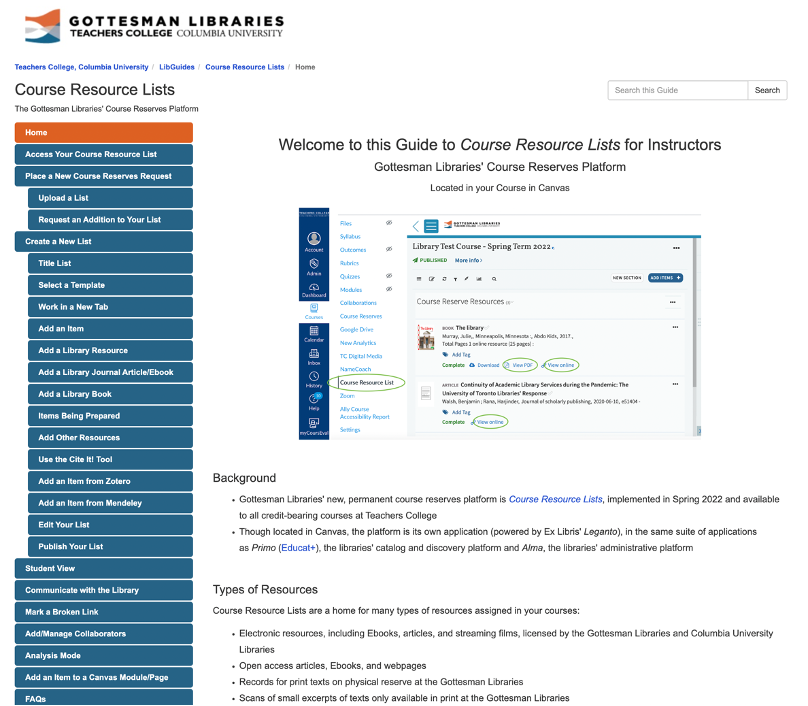 Throughout the Summer, the library continued to hold monthly introductory Course Resource List workshops for instructors and to consult with faculty members and instructional staff one-on-one.
The library will continue to hold these workshops throughout Fall 2022, as well as offer individual consultations on an ongoing basis; more information and details to contact us can be found on the library' Events and Course Reserves pages.
The library also created a survey, which is still open, for faculty and instructional staff that utilized our new course reserves platform in the Spring or Summer 2022 terms, to better understand usage and improve our services.
Maintaining Physical Course Reserves
Though most of our course reserves are digital, the library maintains a collection of more than 1,600 print reserve texts, available from the library's first-floor services desk. During the summer, we took the opportunity to review our physical reserves collection for older and damaged items, shifting a small collection of older editions and DVDs back to our regular collection stacks for patrons to utilize longer loan periods for those items and to make room for new acquisitions.
Summer Resource Sharing
During the summer, the library continued our digital and physical Interlibrary Loan (ILL) services for current TC faculty and students. We were pleased to continue reciprocal lending of digitized excerpts from the Gottesman Libraries circulating collections (introduced in Spring 2022) via OCLC Worldshare, the library's Interlibrary Loan system. More information about our Interlibrary Loan services can be found on the library's newly updated Requesting New Materials page.
Resource sharing highlights for Summer 2022 included:
Fulfillment of more than 225 ILL requests and resource inquiries from TC faculty and students

The library's return to OCLC's Express program, a select group of institutions delivering digital resources with an average turnaround time of 18 hours or less